Tell a Vision™ network is now on Roku as a Live Private Channel!

---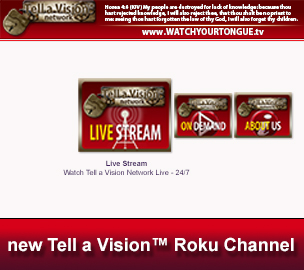 Tell a Vision™ Network – Channel on Roku
Watch Tell a Vision™ live, or watch videos of our on demand shows. Tell a Vision™ Network is reaching the world about the salvation message, world and end time events geared towards the whole family!
What is Roku?
The Roku is a "set-top box" that streams programs to your TV through your Internet connection. Our programs are available through the Tell a Vision™ Network Channel, which you can add to your Roku account by following the directions below.
Watch Tell a Vision™ network anytime day or night and never miss an episode of our weekly programs with the On-Demand Section or Live Stream to watch programs back to back on a regular schedule.
Watch these short videos to learn more about Roku.
---
Adding Tell a Vision™ network to your Roku is a simple three-step process:
On your computer or tablet, log in to your Roku account (click here).
Click here to add Tell a Vision™ network Channel.
After the channel has been added to your account you will need to go to settings on your Roku "set-top-box" and check for updates or enter and exit Channel Store on the Roku.  If the channel is not listed it will  show up in your channel list if you wait 24 hours or just unplug the Roku and plug it back in to reset the unit.  The channel should show up after the Roku boots up.
That's all there is to it! The next time you open your Roku player on your TV, the Tell a Vision™ network channel will be there at the bottom of your list of channels.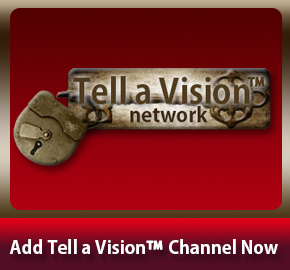 ---
How do I get one?
Roku devices are available from most retailers such as Best Buy, Target, and Walmart, or directly from the Roku website.
Requirements:
* You must have high-speed internet and must have wireless internet available.  Some Roku models also accept an ethernet cable.
Need Help?
Fill out the Roku Help Form below and let us know any questions, issues or even ideas to make this network even greater for your viewing pleasure.
---
And all our WATCH YOUR TONGUE™ Ministries programs are archived here at WatchYourTongue.tv and the official WatchYourTongueTV YouTube channel.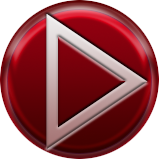 Watch Video On-Demand

We want to get the Word of God out as conveniently for you as we can. And we thank you for your support!
---
Roku Help Request
Fill out the form completely so we can better assist you.