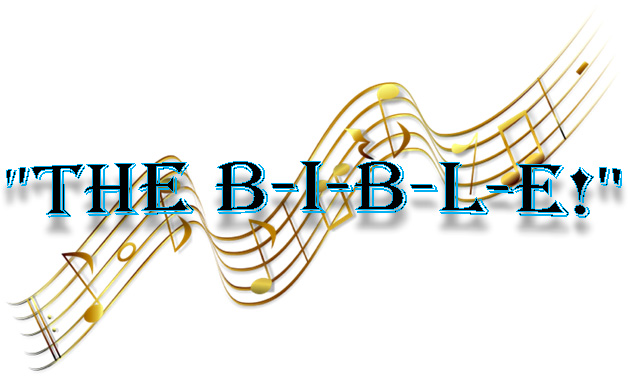 The B-I-B-L-E
Yes that's the book for me
I stand alone on the Word of God
The B-I-B-L-E
When you were a little kid do you remember singing this song in Sunday school or children's church?  Or maybe you heard your child or grandchild singing it. How about singing the beautiful old hymn "Standing on the Promises" in church service?  But how many of us really truly realize that we are not just singing a pretty tune about God's Word, we are proclaiming the powerful foundation for our lives?
I remember as a little girl singing "The B-I-B-L-E" in Sunday school along with "Jesus Loves Me" and all of the other old standbys that children learn in church.  I didn't have a clue what it really meant I just liked to sing it.  For years I stood in church and sang "Standing on the Promises", not fully comprehending the powerful words, I just enjoyed singing the song.  But one day in 1979 at a Women's Aglow Meeting, God used a young lady by the name of Barbara Arbo to open my spiritual eyes and rock my world, praise God!
She gave her personal testimony of salvation, and then proceeded to tell how God had taught her how to pray using His Word and the miraculous results she received.   I had never heard up to that point in my life, praying scriptures.  She gave several examples of how God had answered prayers for her and those she had prayed for by "standing on the Word" and give scripture references to back up each prayer need.  I am ashamed to say that she recited scriptures I didn't even know existed in the Bible. Sadly, I was one of those young church goers that let the preacher spoon feed me his sermons and I existed on that spiritual feeding until I returned for the next feeding. As I sat mesmerized listening to this wonderful Godly woman, the stagnant state of my Spirit started to be washed out by the Living Water Jesus told the woman at the well about in the Bible!  
My life changed that day. I began to study and learn for myself, completely amazed in what I was discovering in God's Word.  I began to realize just how monumentally and unconditionally God loves us and had provided for our every need.  Oh sure, I went to church and listened to the preachers, but as I read the Bible for myself  it became a personal conversation between a loving Father God to a beloved daughter . My faith and trust in the Lord began to grow as the scriptures I read bloomed to life in my spirit. I became more and more excited as the Bible poured out promises and truths that had been waiting for me to discover!  Romans 10:17 (KJV) So then faith comes by hearing, and hearing the word of God.
One day as I was reading the Bible I came upon 1Corinthins 11:15 (KJV)  But if a woman have long hair, it is a glory:  for her hair is given to her for a covering.  I was shocked and at the same time ecstatic as my faith exploded and connected with what I had just read.  Let me explain why this scripture caused so much excitement for me.
I have two gorgeous children. My little boy had the most beautiful head of golden ringlets. Everywhere I went people would stopped to admire how beautiful his hair was.  Also, I had a beautiful little girl 18 months younger that was born as bald as a cue ball.  Her hair grew in painfully slow as she got older it was sparse and stringy straight.  The same people who stopped me to admire my son's hair were the same ones that humiliated my daughter by saying too bad hers wasn't like his.  (That is another soapbox topic that is heavy on my heart about how words can wound a person!) 
While pushing my buggy in the grocery store an old man stopped me and stated, "he should have been a girl with curly hair like that and she should have been your boy."  I was appalled he would say such a thing especially in front of my children and proceeded to let him know about it. These words went deep into my little daughter's heart.  I tried to do everything I could to make up for that horrible remark. I even went so far as to buy a child's permanent for her and put her through that stinky ordeal which didn't even help causing even more frustration  for both of us.
A few weeks later we were going to town to do some shopping and have some "girl day" fun.  As we were walking out of the door she asked me to wait so she could go get her purse so people would know she was a girl when they saw her.  My heart broke even more for her because she was only three years old at the time.  The very first stop we made that day was to get her ears pierced to try to help her feel more like a little girl. 
So, now back to 1Corenthins 11:15.  My spirit leaped for joy inside me and I knew this was an answer to prayer.  This would be the first time I prayed the scriptures back to the Lord.  As I prayed  over my daughter's hair the more tickled I got because I knew God would perform His Word and He was no respecter of persons. I had such a knowing and excitement in my spirit and not just in my brain, that it is impossible to adequately put it into words.  I had never experienced such faith filled expectations in my life!  I didn't just pray the scripture, I exuberantly praised God for what He would do for my little girl.  I didn't know how long it would take nor did I know how He would make her hair her glory, it didn't matter because I just knew He would! 
To my amazement by the end of the week I saw a change in her hair, it had grown some, started to thicken and had a hint of curl. There was no doubt, no denying and was totally evident that God had performed His Word for my little girl!   Expectant faith in Him and in His Word had given us a miracle! To this very day her hair is beautiful cascades of curls and people over the years have complimented her on it.   Even beauticians have admired how beautiful, curly and thick it is. When someone asks her where she got her gorgeous curls (wondering what beauty shop she got her perm) she smiles real big and tells them, "Jesus"! 
The reason I am telling this personal story is not to call attention to myself or brag how special or super spiritual I am, because I'm not. My only desire is to give praise and glory to our awesome God and brag on Him!  Also, to give encouragement to those who read this if you are needing an answer to prayer. This story is just a sample of the faithfulness, love, direction, provisions and answers that my family and I have experienced for over 40 years!  
Jeremiah 1:12 Then said the Lord to me, You have seen well, for I am alert and active, watching over My word to perform it.
Psalm 119:105 (KJV)  Thy word is a lamp unto my feet, and a light unto my path.  Amen!